RS500 World Championship 2017
Gravedona, Lake Como | 24/07/2017 - 28/07/2017
Coming soon...

Welcome
A return to wonderful Lake Como for the RS500 World Championships, RS100 European Championships, RS200/RS400 Eurocup 2017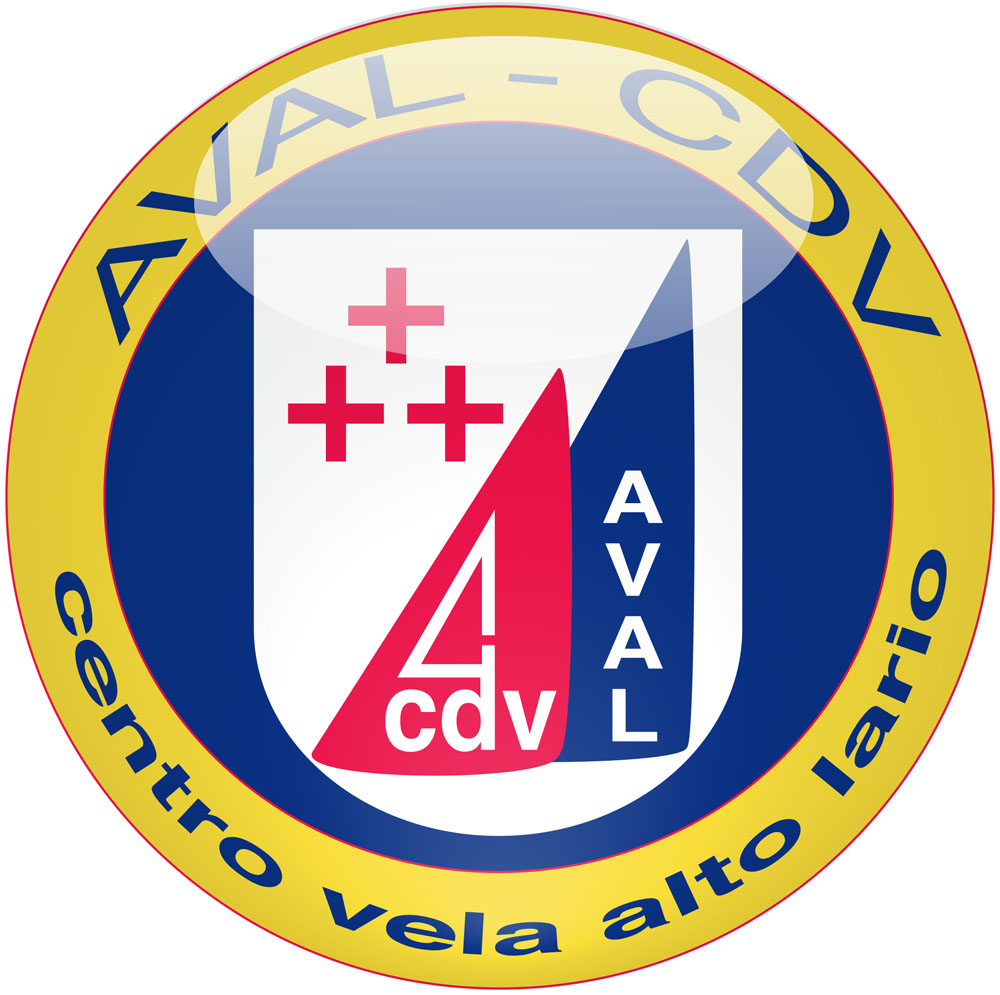 Location:
Centro vela alto Lario (AVAL-CDV) is situated in Gravedona in the North Western corner of Lake Como in Northern Italy. This exceptionally friendly club has just had a bit of a facelift, with fantastic new changing/showering facilities, an enlarged and excellent slipway and 4 x 8 bed bunk rooms on site. Socials are still outside in the balmy evening weather.
Wind/Racing:
Like Lake Garda, the Northern end of Lake Como benefits from a thermal afternoon wind. When the sun is shining (most of the time in July), a wind of around 15-18 kts kicks in in early afternoon, so racing is scheduled to start at 1300hrs daily. The race courses are within 1 mile of launching. Launching is easy, off a recently enlarged slipway into calm waters, giving you time to sort yourself out before hitting the wind.
The racing will run from Monday 24 to Friday 28 July, with a practice race and/or coaching on Sunday 23 July. You can arrive at the club from Friday 21 July and stay until Monday 31 July. Longer stays may be arranged with prior notification with the club. You can register at the club from Sunday 23 July.
The RS100s, RS200s and RS400s will race on one large trapezoid course. The RS500s will race on a separate windward/leeward course.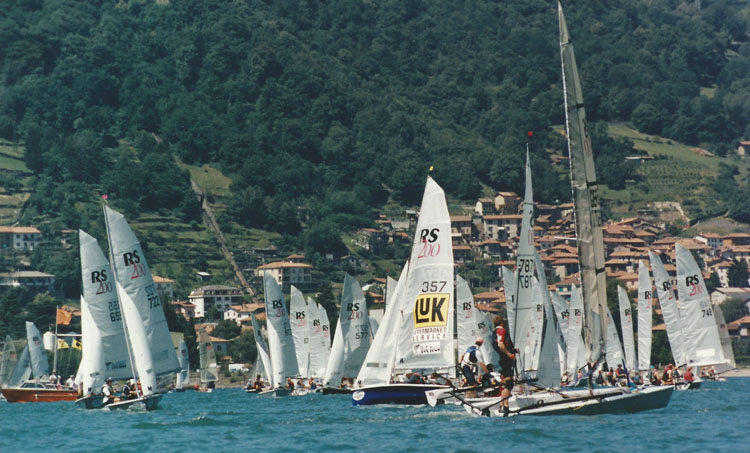 RS200s sailing from Gravedona in 2003
Entry:
The entry fee is €234/£209 for RS200s, RS400s and RS500; €177/£159 for RS100s before 14 June 2017, with a €50/£45 late entry levy for those received from 1 June onwards. As well as the racing, this fee includes boat and trailer parking, pasta after racing each day, and a massive Bar-B-Q with drinks on the Sunday night.
You can enter on this website now.
Social:
For after sailing and for non-sailing friends there's lots to do including mountain biking, windsurfing, hill climbing, beach (grass). Gravedona has a small ferry port, so you can visit all the major Lake Como towns without getting back in the car. The town is small with a few nice restaurants and bars. The clubhouse is small but lovely, with a tiny bar and Carla serving delicious pizza slices. We are trying to arrange a cooking masterclass and local wine tasting for non-sailors.
The club will host a Bar-B-Q with drinks on Sunday (included in your entry fee) and on Thursday (just €15/person, order with your entry) and will serve pasta after racing each day (included in your entry fee).
Accommodation/Local information:
The club has 4 x 8-bedded bunk rooms, which are simple but very convenient and clean. Just €12/person/night, book with your entry - first come, first served. You will need to bring a towel, sheet and pillowcase.
There is loads of camping within 1.5km. A lovely stroll or cycle ride along the lake side.
In order of nearness to Gravedona -
Camping Ideal - http://campingideal.135.it/
Camping Panorama - http://www.campingpanorama.info/it/
Camping La Breva - http://www.campinglabreva.com/
For holiday lets see http://www.gbstudioimmobiliare.it/ Speak to Gabrilel Bianchi from February 2017 onwards. +39 (0)338 687 9966 (M), +39 (0)344 85459 (office).

[email protected]
For information about Gravedona and more apartments - http://www.lakecomoitaly.org/gravedona/
Tourist Information, which includes hotel information, is at http://www.visitgravedona.it/
Charter Boats:
NB. There are no further charter boats available.
Coaching:
Give yourself the best advantage! Join in pre-Nationals coaching on the day before the event (Sunday 23 July), with local, very experienced coaches.

Just €19/boat. Book with your entry. The other fleets will be offered a practice race.
Getting there:
If you are coming by car, it is suggested that you access Gravedona via the Eastern side of the lake as the roads on the Western side are much smaller. If you want any advice about travelling by car to Italy, contact [email protected]
If you would like your boat delivered, it is worth getting on the forum or facebook groups of your fleet and seeing if anyone wants to share double-stackers, etc. Sailboatdeliveries, http://www.sailboatdeliveries.co.uk/ will take your boat for you for £650 so you can take it easy.
If you are coming in by air, my advice would be -
Get a flight to one of the Milan airports
If Milan Malpensa get the train direct to Como (c. 45 minutes)
If other airport get the bus or taxi to Milan Centrale station, and train to Como (c. 30 minutes)
Get the rapid ferry service from Como to Gravedona (c. 90 minutes)
Simples ...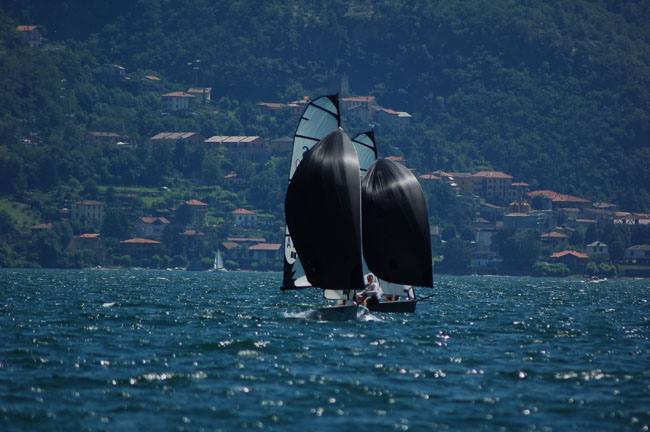 RS100s sailing from Gravedona in 2011