Results / Lymington Regatta Lymington Town SC - 09/07/2022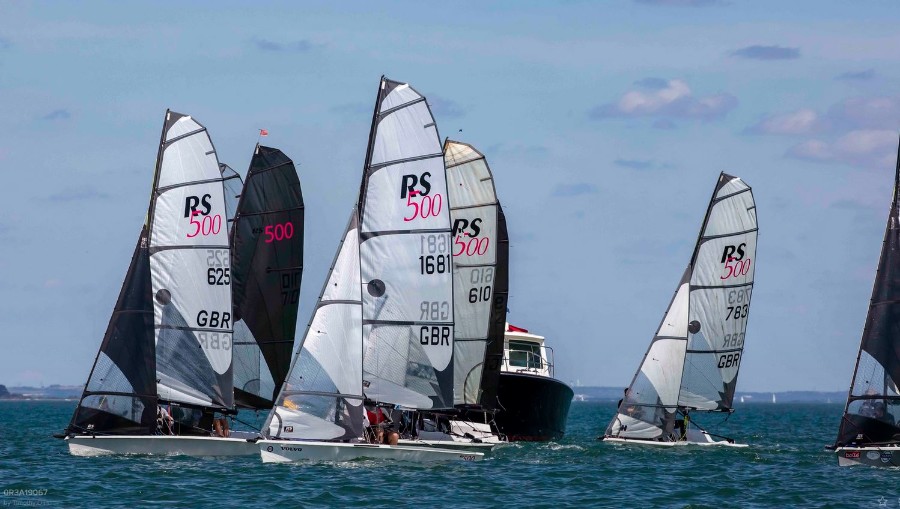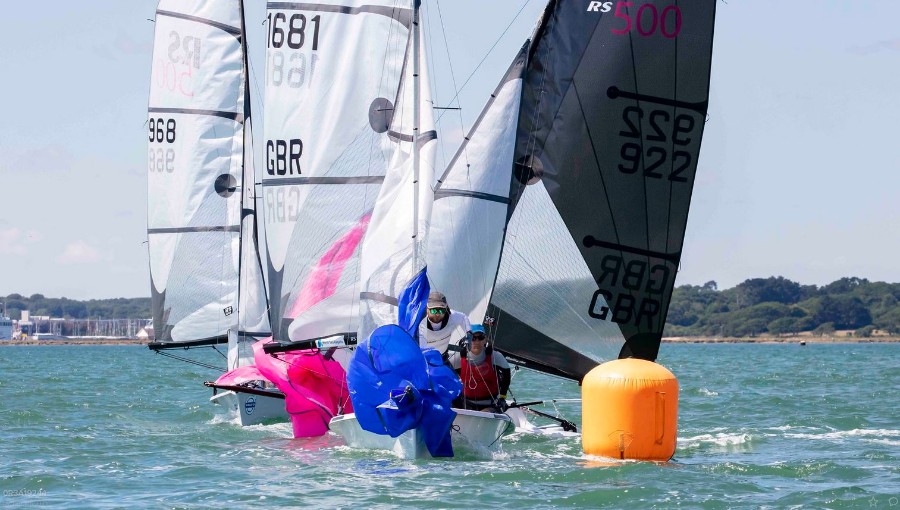 RS500 Rooster National Tour, Lymington Regatta
With the sun shining and a promise of the Solent's trusty sea breeze brewing on the horizon, ten RS500 teams gathered eagerly on shore at Lymington Dinghy Regatta. The class had its own start and six windward leeward races on a course shared with RS700, RS800 and handicap fleets.
It was a slow start with race one eventually underway in shifty, fickle northerly conditions before a consistent sea breeze filled in for races 2 and 3, with a good 9-12 knot wind speed meaning the crews got to stretch out on the wire.
Father and son team, Hugh and Luke Watson, got off to a winning start, demonstrating their speed upwind to secure a bullet in race one. Races 2 and 3 were close fought with Hugh and Luke winning an impressive port flyer on both starts, before being chased down by Mike Saul and Ollie Kent as well as Tim and Heather Wilkins. The latter pipping Hugh and Luke in a photo finish in race three.
Sunday saw an earlier sea breeze with all three races sailed in a consistent southwesterly F3-4 and bright hot sunshine. In the earlier races the outgoing tide added to the pressure and chop, making the downwind legs a fun ride. The battle at the front was between Mike and Ollie, and Tim and Heather, and was closer than the eventual scoreline suggests. A consistent performance by class newcomers Robin Leather and Sophie Wright led them to pick a well-deserved third place overall, while youngsters Thomas Leather and Maeve Hall picked up an endeavour award for completing all races in their first RS500 event, and showing great speed potential in the mix.
A huge thank you to the Lymington Clubs for hosting the RS500s and running another very successful and enjoyable regatta!
With the 2022 World Championships just around the corner in Weymouth next month, this was a fantastic warm up event and gives an early indication for how close racing from the British teams will be across the fleet.
Some fabulous photos in this great photo gallery by Tim Olin
RS 500 Fleet
| Rank | Fleet | Class | SailNo | Club | HelmName | CrewName | Rating | Race 1 | Race 2 | Race 3 | Race 4 | Race 5 | Race 6 | Total | Nett |
| --- | --- | --- | --- | --- | --- | --- | --- | --- | --- | --- | --- | --- | --- | --- | --- |
| 1st | RS 500 | RS 500 | 625 | Gurnard SC | Tim Wilkins | Heather Wilkins | 966 | (3.0) | 1.0 | 1.0 | 1.0 | 1.0 | 1.0 | 8.0 | 5.0 |
| 2nd | RS 500 | RS 500 | 1689 | Yorkshire Dales SC | Mike Saul | Oliver Kent | 966 | 4.0 | (5.0) | 3.0 | 2.0 | 2.0 | 3.0 | 19.0 | 14.0 |
| 3rd | RS 500 | RS 500 | 652 | Gurnard | Robin Leather | Sophie Wright | 966 | (10.0) | 7.0 | 4.0 | 3.0 | 3.0 | 2.0 | 29.0 | 19.0 |
| 4th | RS 500 | RS 500 | 968 | | Fiona Rudolph | Simon Rudolph | 966 | 6.0 | (10.0) | 5.0 | 6.0 | 5.0 | 4.0 | 36.0 | 26.0 |
| 5th | RS 500 | RS 500 | 1746 | Emsworth SC | Hugh Watson | Luke Watson | 966 | 1.0 | 2.0 | 2.0 | (11.0 DNC) | 11.0 DNC | 11.0 DNC | 38.0 | 27.0 |
| 6th | RS 500 | RS 500 | 610 | Burghfield SC | John Cooper | David Shafto | 966 | 7.0 | (9.0) | 7.0 | 5.0 | 4.0 | 5.0 | 37.0 | 28.0 |
| 7th | RS 500 | RS 500 | 922 | Gurnard SC | Thomas Leather | Maeve Hall | 966 | (8.0) | 6.0 | 8.0 | 4.0 | 6.0 | 6.0 | 38.0 | 30.0 |
| 8th | RS 500 | RS 500 | 783 | Draycott Water | Nigel Davis | Aaron Davis | 966 | 9.0 | 8.0 | 6.0 | (11.0 UFD) | 7.0 | 7.0 | 48.0 | 37.0 |
| 9th | RS 500 | RS 500 | 710 | Thorney Island SC | Simon Horsfield | Katie Horsfield | 966 | 2.0 | 3.0 | (11.0 DNC) | 11.0 DNC | 11.0 DNC | 11.0 DNC | 49.0 | 38.0 |
| 10th | RS 500 | RS 500 | 1681 | Grafham Water | Peter Curtis | James Curtis | 966 | 5.0 | 4.0 | (11.0 DNC) | 11.0 DNC | 11.0 DNC | 11.0 DNC | 53.0 | 42.0 |